KOLUMAN MERCEDES-BENZ VIP ROOM
ALUMINIUM BAFFLE IN WOOD EFFECT
B&G OFFICE
OPEN-CELL and STRETCH CEILINGS
APPLE RETAIL STORE, CEVAHIR MALL
ALUMINIUM BAFFLE
Casablanca Mohammed V International Airport in
Morocco preferred Deckon for its suspended ceiling systems.
First choice for healthcare buildings:
Deckon Premium Metal Suspended Ceiling Systems
Wooden-like aluminium decorative
honeycomb ceiling systems
We offer our solution partnership for high quality, aesthetic and eligible areas in your projects. Deckostretch difference, Türk Telekom Lounge.
Lineer Wooden Ceiling systems
in customised special size and shape
Combine aesthetics and acoustic comfort with
Rockfon Eclipse panels with A1 grade fire resistance.
Deckon: Turkey's leader suspended ceiling systems manufacturer and distributor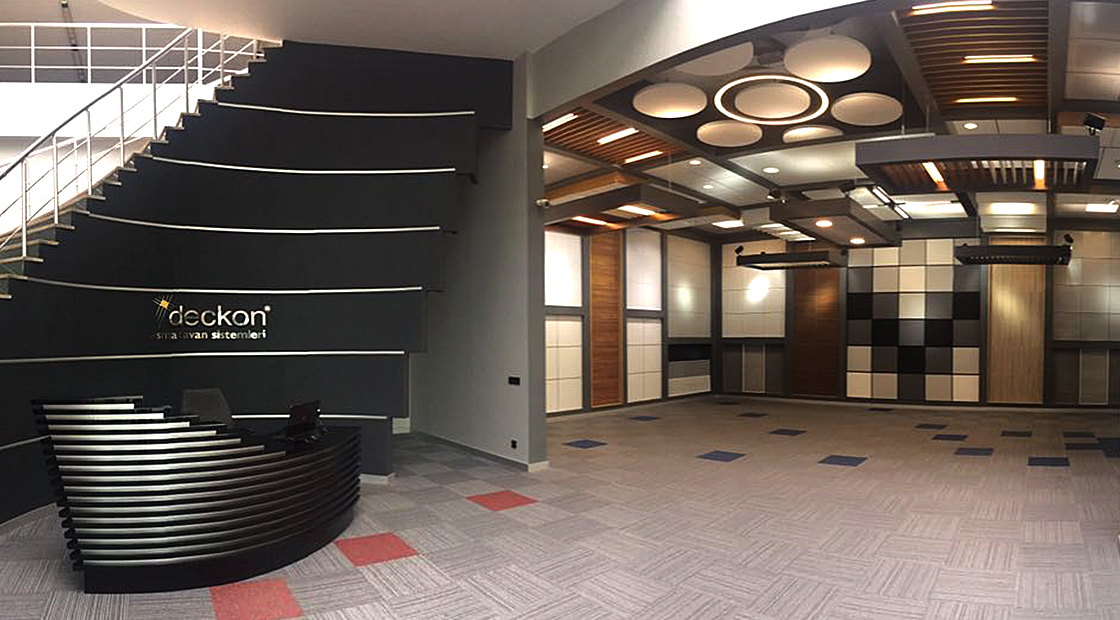 With a continuous growth from its establishment until today, Deckon promptly expanded its market share in the ceiling sector thanks to its price-performance principle and become one of the largest companies of the sector and accomplished many projects in and outside the country.
It offers a wide range of ceiling solutions and technical solution partnership from the smallest projects to most comprehensive projects or those requiring special expertise.
As part of its product and service areas, it is able to offer suspended ceiling panels and load-bearing systems under its brands DeckonPremium and Deckofix and offer products and services eligible for all kinds of projects and customer requests under the Turkish distributorship of Rockfon, OWA, USG, AMF, Gustafs which are European Companies expert in their fields and serve as a solution partner for all kinds of projects ranging from the most simple to most sophisticated ones. Please click for further information on all Deckon products and services.
Sectoral Solutions
You can view, in details, our solutions offered for many sectors i.e: education, entertainment, industrial, transportation, culture, office, shopping malls, hotels, sports and observe our references and have access to sample projects.