CORPORATE
ABOUT US
Deckon, creating a powerful synergy with its young and dynamic managers, each one of which were formerly employed in international companies, and employees, started its activities as the distributor of Rockfon brand of Rockwool, in 2008 in İstanbul, head office, Kayseri and Mersin. In the course of time, it has been granted with the distributorship of USG, an American origin rockwool ceiling panel manufacturer, AMF and OWA, German origin rockwool ceiling panel manufacturers, GUSTAFS, a Swedish wooden ceiling and wall panel manufacturer and SCHERFF, a German acoustic coating manufacturer and rapidly increased its share of the market. Deckon Premium metal suspended ceiling systems, Deckowood acoustic wooden ceiling and wall panels and Deckofix load bearing systems which it began to manufacture in 2012 in its own plants resulted in strengthening its position in the sector and today it become of the largest companies in its sector by rapidly expanding its market share in the suspended ceiling sector through its general price-performance principle and accomplished many projects in and outside the country. It has given importance to franchising since its establishment and considered its franchise network as a strategic partners to provide the best service for its end users.
Today, Deckon, offers ceiling solutions and technical solution partnership in a wide range from smallest projects to most comprehensive projects or those which require special expertise. By offering products and services eligible for all kinds of projects and customer requests, it is able to provide simplest or most sophisticated solution partnership.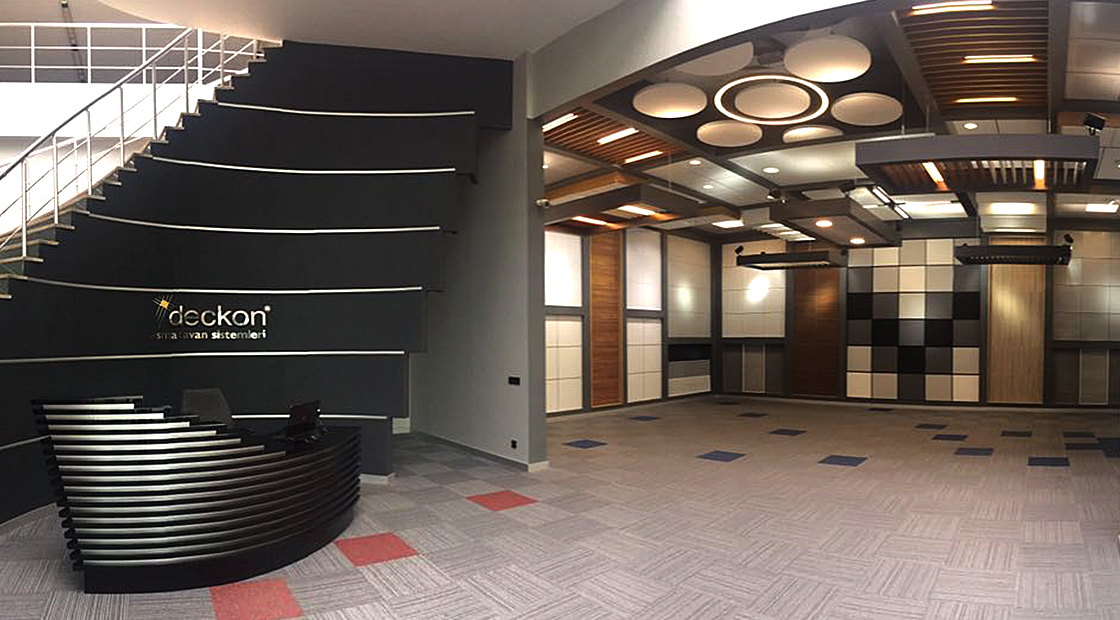 Mission
By combining the high quality of world brands with the assurance of Deckon brands which it produces, being one of the leader companies of the sector both in domestic market and abroad.
Vision
Becoming a world brand aiming the best in all fields of its activity
Business Development
To provide sustainable development from bottom to top.
To improve customer portfolio and mutual trade
To support customers and end users with new products and services
To promote cultural sensibility and labor equality
To achieve customer satisfaction
To become aware of opinions and strategies of its customers
To become aware of end user expectations
To define and offer solutions for customer and consumer requirements
To establish strong bonds between customers and suppliers
Be sensitive on environmental and social requirements
To maximize individual and collective performance
To canalise right persons to right positons
To implement target and performance assessment system
To promote innovation
To fulfil its responsibilities honestly and reliably
To establish a positive working environment
To promote courage and team interaction.
To recognise and reward perfection
To achieve mutual competition advantage
To promote constructive communication
To enable a reliable and entertaining working environment for all its employees